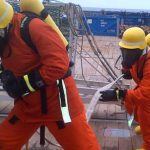 AIM (Access-Inspection-Maintenance)
We are experts at working safely at heights. Our Directors have been providing Rope Access Inspection and Maintenance Services to the Ghana's Petrochemical and Industrial Sectors for over 2 years, and we are a full and active member of the Institute for Work at Height (member number IWH029).
Rope Access is a comprehensively proven safe and cost effective solution for work at height, when compared to other methods of working in elevated environments.
One of the main benefits of Rope Access is its versatility, for example, rigging is quick to install and remove, with little or no impact on client production or other contractors working in the same vicinity.
Rope Access services include:
NDT
Welding
Painting
Water proofing
Bolt Torqueing and replacement
General cleaning works